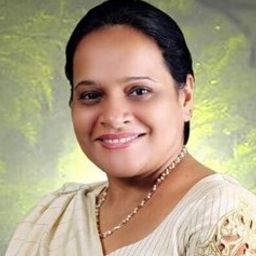 Ms. Rohini Kumari Kavirante MP
Member of Parliament
Parliament of Sri Lanka
Ms. Rohini Kumari Wijeratne is a member of the Parliament of Sri Lanka representing the Samagi Jana Balawegawa (SJB) party for the Matale District. She was elected into parliament in 2015 with the 3rdhighest preferential votes in respective party and re-elected in 2020 with the highest preferential votes.
Born in the rural village of Laggala in the Matale district, she is a daughter of the Late Minister for Agriculture and Marketing J.P. Wijeratne Banda, the daughter-in-law of Late Minister for Cultural Affairs P.B. Kavirathna and the wife of late Parliamentarian and member of Central Provincial Council, Sanjeewa Kavirathna.
She received her primary education at Laggala Pallegama Central College and Sri Sanghamiththa Girls' College Matale and pursued her secondary education at Swarnamali Girls' College and Kandy Girls' High School.She is currently undertaking ahigher diploma in Counselling Psychologyat the University of Colombo.
Prior to being elected into parliament, she was employed as a teacher for nearly 2 decades across multiple prestigious schools in both Matale and Kandy districts.
During her tenure as a people's representative in parliament, she fiercely advocates for gender equality and equity, education and educational reforms, rights and representation of teaching professionals and agriculture. She spearheaded the condemning of toxic fertilizer which was brought down to the country and mounted a stout political defence in attempting to stop the import of aforementioned. She also presented a private member motion into parliament on the account of banning conversion therapy with regards to the LGBTQI community.
She further functions as the deputy chairman of the Women Parliamentarians caucus in Parliament along with being a member of many other select committees in parliament. Mrs. Kavirathna has faced verbal sexual harassment in parliament and was brutally attacked in 1999 during an election while she was expecting a child. Today, she continues to advocate for the rights and safety of women and children, contributes for educational reforms andrestructuring, uplifting the agricultural sector and wide array of topics.
Sessions in which Ms. Rohini Kumari Kavirante MP participates