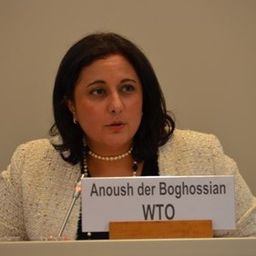 Ms. Anoush der Boghossian
Head of Trade and Gender
World Trade Organization (WTO)
Ms. Anoush der Boghossian is the Head of the WTO Trade and Gender Unit and the WTO Gender Policy Adviser. She was appointed as the WTO's first trade and gender expert by former Director-General Roberto Azevêdo in 2017. She is the WTO expert on trade and gender and on gender equality issues more broadly.
She is one of the Co-Authors of the WTO/World Bank report on "Women and Trade". She is the lead author of gender chapter (4) in the Aid for Trade Global Review 2022 publication. She also led the gender segment of the Aid for Trade Monitoring and Evaluation Exercise 2021-2022.
Anoush is also the Founder and Chair of the WTO Gender Research Hub, a research network that fosters research and experts' partnerships on gender equality in trade. Through the Hub, she also intends to promote research findings on trade and gender equality thus supporting governments in adopting informed policies and to establish the topic of as a recognised field of research and expertise.
She is a recognised trainer and researcher on gender responsive trade policy and aid for trade programmes, and for instance she organised a session at the Seventh Biennial Global Conference of the Society of International Economic Law (SIEL) in 2021 and presented research on "Mainstreaming Gender in Trade and Investment Agreements: Best Practice Examples & the Missing Elements".
Anoush is a senior staff member of the WTO with 16 years' experience in the Organization. Prior her current responsibilities, Anoush worked as the French Language Spokesperson of the WTO, as the press officer to the former Director-General Pascal Lamy and to the former Deputy Director-General Valentine Rugwabiza, focusing on media operations in Africa amomg others. She also served as the NGO Liaison Officer of the WTO. Within these positions, she started to develop her knowledge on the links between trade gender and development, especially doing a lot of work with African media.
Anoush began her career at the WTO in 2006 after acquiring 10 years of professional experience in the private sector, in Brussels, working on EU policies, as a public relations specialist.
Among her educational achievements, she holds a Masters in European and International Law (with specialised expertise in EU Competition Law), and a Masters in Communications.
Among her personal achievements, Anoush is a Member of the "Confrérie des Chevaliers du Tastevin", Chateau Clos de Vougeot (Burgundy, France) and she is an experienced diver.
Sessions in which Ms. Anoush der Boghossian participates