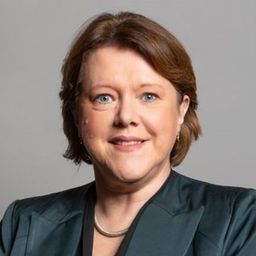 Rt Hon. Dame Maria Miller MP
Member of Parliament
House of Commons United Kingdom
Rt Hon. Dame Maria Miller is married to Iain Miller and they have three children, one daughter and two sons.
Educated at Brynteg Comprehensive, Bridgend, South Wales, She went on to study at London School of Economics.
She was first elected to represent Basingstoke in the 2005 General Election.
Before entering Parliament, She worked for 20 years in marketing, including board level experience, and appreciates some of the pressures faced by working parents.
On becoming a Member of Parliament, She was appointed to the Trade and Industry Select Committee. David Cameron appointed her as Shadow Minister for Education in December 2005, then Shadow Minister for Family Welfare in the Department for Work and Pensions in November 2006. She moved back to the Education team as Shadow Minister for the Family in July 2007 and remained in post until the 2010 General Election.
She was appointed Minister for Disabled People at the Department for Work and Pensions in the Coalition Government in May 2010 and was promoted to Secretary of State for Culture, Media and Sport, and Minister for Women and Equalities, from September 2012 to April 2014.
In June 2015, she was elected as Chair of the newly established Women and Equalities Select Committee. She was nominated for the position by MPs across the House in 2017 and was re-elected unopposed.
Sessions in which Rt Hon. Dame Maria Miller MP participates