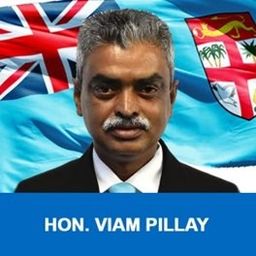 Hon. Viam Pillay MP
Member of Parliament and Assistant Minister for Agriculture, Waterways & Environment
Parliament of Fiji
Hon. Viam Pillay MP is the Assistant Minister for Agriculture, Waterways & Environment.
He has been a Member of the Fijian Parliament since October 2014 and the Honourable Member is
the Chairperson of the Standing Committee on Social Affairs which mandated by the Fijian Parliament to look into matters related to health, education, social services, labor, culture and media. In 2020, he was elected as the Pacific Regional Champion of the Commonwealth Parliamentarians with Disabilities (CPwD).
His passion for public service and vision for a Better Fiji are shaped by his experiences and influences. He is driven by the desire to have a positive influence within the community and Fiji as a whole.
Propelled by hope and hard work, Hon. Viam Pillay focused his role within his community on building teams and plan to create growth that works for the farmers and villages, and the fair economic opportunity for everyone; on respect for and promotion of freedom and diversity; and on a more democratic government that represents all of Fiji.
Hon Pillay is married with three children. He reside in the Western side of Viti Levu in Fiji.
Sessions in which Hon. Viam Pillay MP participates